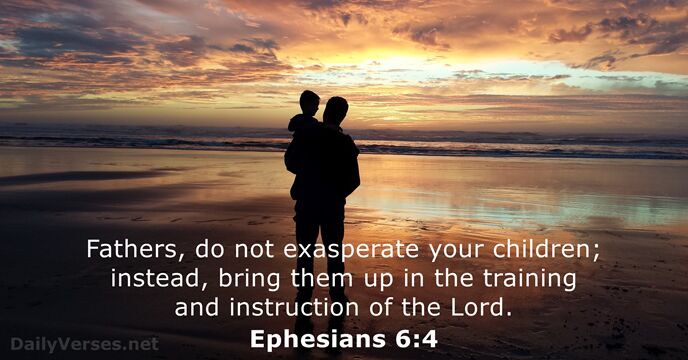 And, ye fathers, provoke not your children to wrath: but bring them up in the nurture and admonition of the Lord.
We are called to raise our children in the nurture and admonition of the Lord.  As fathers our desire should be to reflect our Father in Heaven.  He was revealed through His Son Jesus Christ.  Because of Jesus we know that our Father is full of grace, mercy, and love.  His love for us is unconditional and eternal.  He desires to teach us through every mistake and that we would continue to grow to deeper maturity in Him.
This should be our desire for our earthly children.  We should love them with an every lasting  and unconditional love.  Yes our children will make mistakes, but our desire and aim should be to teach them through every short coming.  We must develop within them a deep study and understanding of God's word and prayer.  This only comes as we daily set the example before them in the way that we live our lives and pursue the Lord with our whole heart.  May we understand that our children are not our own, but ultimately belong to the Lord.  May we be wise stewards of our children and do all things by the leading and guidance of the Holy Spirit.