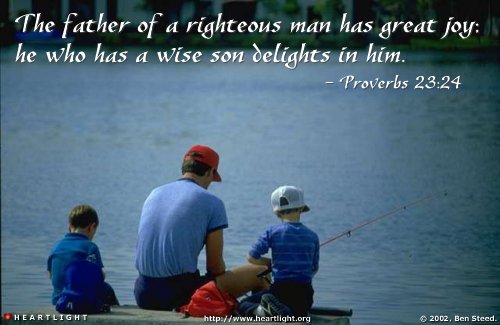 The father of a righteous child has great joy; a man who fathers a wise son rejoices in him.
It is a wonderful blessing when our children serve the Lord and walk with the Lord.  But this doesn't happen by accident.  Every parent has been given stewardship over their children by the Lord.  Our children actually don't belong to us, they belong to the Lord.  While they are under our care we are called to build within their lives a firm foundation of God's kingdom.
This comes as we teach them how to pray and study God's word.  It happens as we live our lives out before them on a daily basis, setting a Godly example for them to follow.  The ministry of any parent to their child is an essential one and sadly today many have allowed the enemy to hijack this through entertainment and other means.
Let us always remember we are not called to be our child's friend and we are not called to make them the center of everything.  We are called to be their parent and to teach them to walk with the Lord and pursue Him all the days of their lives. We must guard against allowing things that have no eternal value to have a more prominent place in the life of our child then the Lord Himself.
If our children are to walk in righteousness and pursue God's kingdom with their whole hearts then we must daily sow into their lives God's kingdom on a daily basis.  As we pray with them daily and share the word with them daily, the Holy Spirit continues to work in their hearts shaping and molding them.  We must pray continually for our children that the Lord would watch over and protect them, that the Lord would lead and guide them, that every plan and purpose that God has established for their lives would be manifest and come to pass.