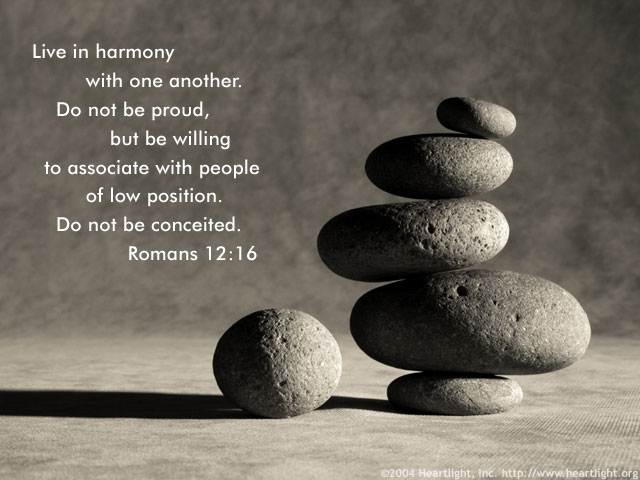 14 Bless those who persecute you; bless and do not curse. 15 Rejoice with those who rejoice; mourn with those who mourn. 16 Live in harmony with one another.Do not be proud, but be willing to associate with people of low position.[c] Do not be conceited.  Romans 12:14-16
The way we live our lives is to be lived to glorify and honor the name of Jesus.  The world and culture of our day calls people to live self-centered lives in which they step on anyone who may stand in their way.  But in Christ this is not the case.  We are called to do all things in love.  When we are driven by the love of Christ we are willing to forgive.  We are willing to respond to those who persecute us as Jesus did.  We must remember as the Lord hung upon the cross He prayed that His Father would forgive them for they know not what they do.
Jesus is our model and our example.  He is the standard by which we are to live our lives.  We are called to rejoice with those who rejoice and to mourn with those who mourn.  There are brothers and sisters in the body of Christ who are hurting and broken.  We are called to encourage them and to cry with them.  We are not only called to walk in intimacy with the Lord, we are called to walk in deep fellowship with one another.  Everything we do in Christianity is based upon relationship.
We are called to live in unity and harmony with one another.  The power and might of God's kingdom is poured out when God's people walk in unity and agreement.  We are also called to associate with those of low position.  When we examine Jesus life and ministry we see time and again that Jesus reached out to those who were forgotten.  Jesus reached out to the untouchable and poured His grace, love, and compassion on them.
We only have one life to live and may we use the life we have been given to love those we meet every day.  May we be an ambassador of God's kingdom and bring glory to the name of Jesus in all things.  We are surrounded by people who are broken and hurting.  May we see all things through the eyes of Jesus.