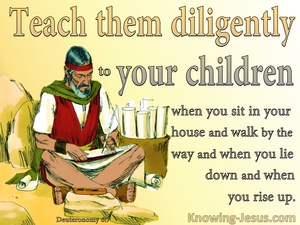 These commandments that I give you today are to be on your hearts. Impress them on your children. Talk about them when you sit at home and when you walk along the road, when you lie down and when you get up.
The law the Lord gave Israel was to govern them as a nation and was to govern their lives.  God was in covenant relationship with Israel and the blessing of the Lord was simply found in walking in obedience.  Through these verses the Lord speaks to the people about the importance of teaching the commands of the Lord unto their children.
Every parent is given stewardship of their children for a period of time.  There is a day when every child reaches adulthood and that child leaves the home of their parents.  Those children ultimately belong to the Lord and it is the responsibility of the parent to teach their children about the commands of the Lord.
Today under the blood of Jesus we live under the New Covenant.  We have the whole counsel of God's word and we today still have the responsibility to teach our children about the Lord and His word.  We live in a world and culture that is steeped in the lies of the enemy.  Any parent who fails to teach their children about the word of God, leave their children vulnerable to the lies and deception of Satan.
In America one of the greatest godless institutions we have is the public education system.  Daily children are ingrained with a humanistic perspective that is based upon demonic lies.  To guard the hearts and minds of our children we should not only pray for them, but daily we should be in God's word together with them.
The seeds that we sow into their lives as children will stay with them throughout their lives on the earth.  Train up a child in the ways of the Lord and they will not turn from it.  Yes I have seen some of my friends turn for a time who were raised in the Lord, but their is always a day when the Lord begins to soften the heart and call them back to Him.
Let us understand the honor and privilege we have in raising and training children up in the Lord.  The word of God is precious and life changing.  Let us take time each day to seek the Lord with our children and pray the hand and protection of the Lord over their lives.  Praying that God's will be done and every plan and purpose He has for their lives be released in His due time.